Up
Mission
Preservation Projects
Restoration Projects
Renovation Projects
Current Work
Lectures
Publications
Résumé
Publications & Reports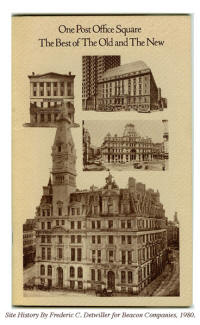 Publications:
One Post Office Square "The Best of the Old and the New", a district history (Boston: The Beacon Companies, March,1980).

"The Evolution of the Shirley-Eustis House", Old-Time New England, Ser. No. 257, 1980.

"Thomas Dawes's Church in Brattle Square", Old-Time New England, Ser. 255-56,1979.

"Thomas Dawes, Boston's Patriot Architect", Old-Time New England, Ser. 249-50,1977.

War in the Countryside, "The Battle and Plunder of the Short Hills, N.J., June, 1777", (Plainfield, NJ: The Interstate Printing Corp., 1977).

Lafayette, Nous Voici!, (with Ellen Moloney Detwiller) Tableaux Vivants play for the American Association of Teachers of French, Boston Latin Academy, 1976; Boston Latin School 1989.

"Boston in 1755" (Mss) Demogaphy of Boston in Building Damage and Ground Motion During the 1755 Cape Ann Earthquake for Prof.Robert Whitman, Massachusetts Institute of Technology, 1978, 2002.

Facilities Management Plan

for the Preservation Society of Newport County, RI with David M. Hart and Olga Bachilova, McGinley Hart & Associates,1999-2000.

Historic Considerations Report

for evaluation of CA/T Joint Development Parcel Design Guidelines; Report of the Project Conservator; coordinated environmental impact/mitigation study, with McGinley Hart & Associates, 1988-2001.
Historic Structure Reports:
Faneuil Hall, Paul Revere House, African Meetinghouse (principal author); Old State House, Old South Meetinghouse (team member) in Boston National Historic Park, SPNEA, 1975-1978.

Shirley-Eustis House, for the Governors Shirley-Eustis House Association, Boston, 1980.

Gov. Bellingham-Cary House, Chelsea, MA, 1985 aand Update,

Orchard House and the School of Philosophy, Conservation Assessment Program (CAP) Report, Preservation Plan for the Louisa May Alcott Memorial Association, 1998, 1979-2001.

Old Stone Mill and Powder House, Somerville, MA, McGinley Hart & Associates, 2001

Governor Wentworth-Coolidge House, for the State of New Hampshire, 1987.

Old Town Hall, Salem, MA for the Salem Redevelopment Authority with James H. Ballou, Architect, Salem, MA, 1974.